Find the Correct Saddle for Your Breedlove® Acoustic Guitar
Are you searching for a Breedlove acoustic guitar saddle? Breedlove models typically use one of three different compensation patterns – zigzag, compensated D and G, or compensated B with slanted bass. These different compensation patterns also come with different radii and length/height/thickness specs.
Although this guide will help, we advise that you also measure your guitar's saddle slot to ensure a proper fit. If you are not the original owner, someone may have installed a different saddle, adjusted the saddle slot, or possibly even installed a different bridge or neck at some time, thus producing different specs from the factory's original specs.
ZigZag Compensated
A large number of Breedlove models made in the USA use a zigzag compensated saddle. We've seen both 14 and 16 inch top radius zigzag compensated saddles on Breedlove models, as well as 72 and 72.5 mm lengths.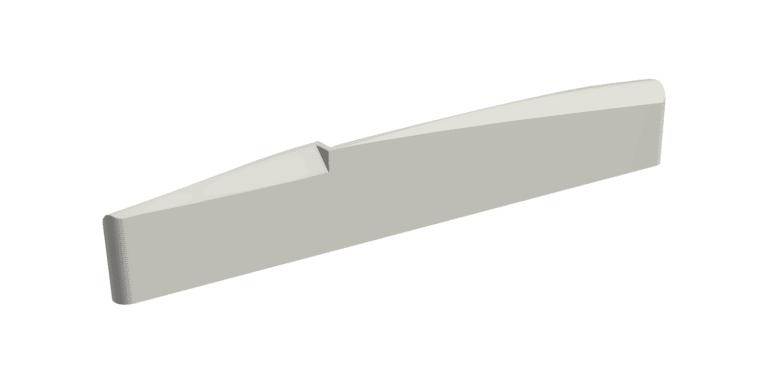 We advise removing your current saddle and measuring before ordering a replacement. Contact us to get this saddle type in bone, or see Tusq part number PQ-9281-CO.
Compensated D and G
Made in USA Breedlove models may also have a compensated D and G saddle, although this is less common and typically found on guitars made in the 2000s and 2010s. This saddle has a subtle angle compensation for the treble E and B strings, places both the D and G forward, and then has the bass A and E strings backward, with the A slightly forward relative to the E. This saddle has a tight 10 inch radius, is relatively thick at 3.5 mm, along with a 73 mm length with a maximum height of 12 mm.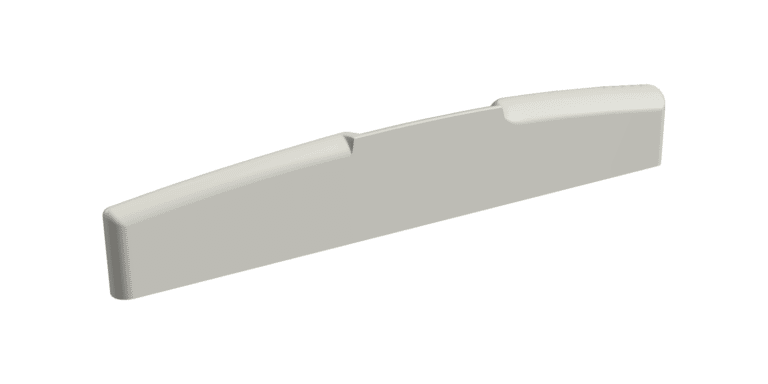 If you wish to get this saddle in Tusq, see part number PQ-9212-00. You can also contact us as we can make this saddle in bone. We can also make this saddle type with any top radius between 10 and 20 inches.
Compensated B with Slanted Bass – 3.2 mm Thick
This saddle is often seen on Asian-made Breedlove models built after 2014. Length is 72 mm with a thickness of 3.2 mm. Top radius is 16 inches.
We offer this saddle type in 
8 mm height
 for models with a pickup or 
9 mm
 for those without, but can make in other heights as well.
Compensated B with Slanted Bass – 3.7 mm Thick
Many of the Breedlove Atlas Series models from the 2000s and 2010s have a tall, thick saddle with a 12 inch top radius. These saddles are somewhat distinct in the acoustic guitar saddle world in that few other saddles are this thick at 3.7 mm.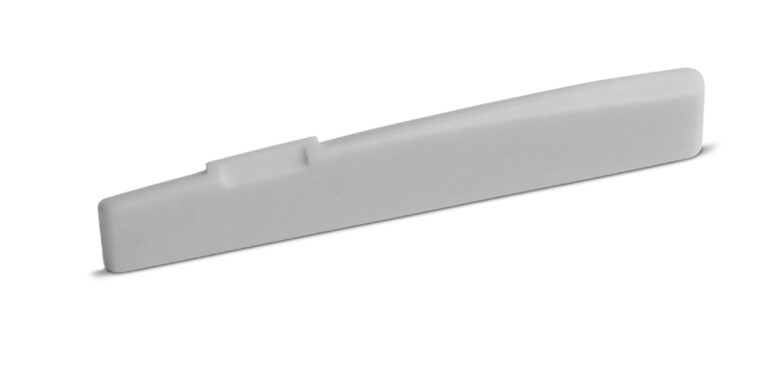 Which Saddle Size Does Your Breedlove Need?
If you are still unsure which saddle your Breedlove needs, please contact us with the below information:
Breedlove Guitar Year, Model, Fretboard Radius
Current Saddle Length, Height, Thickness
Guitar Saddle Slot Length, Thickness (if different from your saddle specs)
Current Saddle Compensation Pattern (please send a picture if you are not sure what type you have)
We will respond within 48 hours.