Find the Right Saddle for Your Blueridge® Acoustic Guitar
Are you searching for a Blueridge steel-string acoustic guitar saddle? Although similar to many Martin guitars, Blueridge Guitars use saddles that are often about one mm longer and about 0.7 mm thicker. As such, using a Martin style saddle on a Blueridge is unlikely to work. This guide provides tips for finding the correct saddle size for your Blueridge steel-string acoustic guitar.
Although this guide will help, we suggest that you also measure your guitar's bridge saddle slot for a proper fit. If you are not the guitar's original owner, someone may have installed a different saddle, adjusted the saddle slot, or even installed a different bridge or neck at some time, thus producing different specs from the factory's original specs.
Blueridge Prewar Series
If you have a Blueridge Prewar Series model, then most likely your guitar has a through saddle, which will go all the way through the bridge lengthwise and is often glued in place. Replacing this saddle type requires a good deal of skill and so we suggest that you find a professional guitar technician for the job.
Blueridge Historic and Contemporary Series
Blueridge Historic and Contemporary Series models commonly use a non-compensated center line saddle with a 16 inch radius. Length is often around 75 mm, but can vary; we have seen 68 mm and 72 mm length saddles on these Series. Thickness is typically 3.2 mm. You can also use a single wave saddle – please see our single wave saddle for more information.
An exception among the Contemporary Series is the NT-40T Tenor Guitar, which has a through saddle, similar to those used on the Prewar Series models, but shorter in length.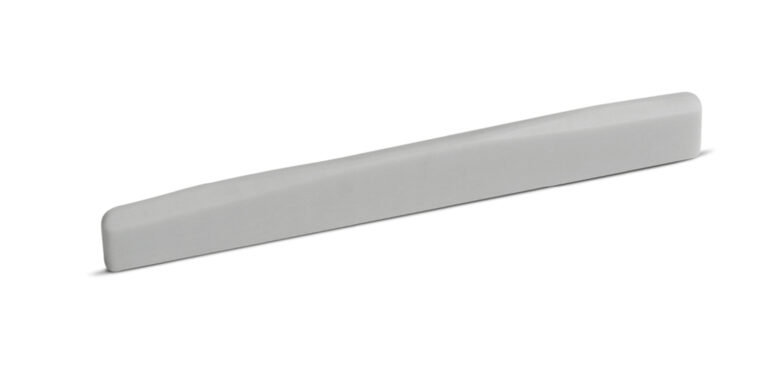 Bristol by Blueridge
The economy Bristol by Blueridge guitars use a different saddle type from those any of the Blueridge Series. The Bristol models use a B compensated saddle with slanted bass – please see our Guide to B Compensated Saddles for more information. The Bristol guitars also use a 16 inch fretboard radius.
Which Saddle Size Does Your Blueridge Need?
If you need more information on which saddle your Blueridge acoustic guitar needs, please contact us with the below information:
Your Blueridge's Year, Model, Fretboard Radius
Current Saddle Length, Height, Thickness
Guitar Saddle Slot Length, Thickness (if different from your saddle specs)
Current Saddle Compensation Pattern (please send a picture if you are not sure what type you have)
We will respond to your message within 48 hours.